Planatscherhof –

South Tyrolean farm with private alp

The farm Planatscherhof in Barbiano is ideal for an adventurous hiking holiday in Val d'Isarco. The South Tyrolean farm is located on a sunny slope at 680 meters above sea level and has its own alpine hut. In a wonderful location below the local mountain, the Corno del Renon, the lush green meadows stand out in the sunshine. From the Planatscherhof a wonderful hiking trail leads to the Barbiano Alp. During the summer, you will enjoy the scent of wild herbs and breathe in the clear mountain air. The alpine highlands offer stunning views of the mountain landscape of the Dolomites.

Our alpine pasture is a popular destination for excursions. The alpine hut, embedded in meadows, is located at approx. 2000 m above sea level below the Rittner Horn. The beautiful panorama of the Dolomites and the fragrant mountain flowers invite every hiker or biker to an exciting tour. The walking time from the car park Huber Kreuz to the alpine hut is one hour.
Nature experience Alpe di Barbiano
In the heart of unspoiled nature on the Barbiano Alp beautiful hiking trails take their start. The perfect place for a romantic picnic in the middle of the great outdoors. Give yourself a break and watch in the summer butterflies dancing from flower to flower, bees collecting the sweet nectar. The majestic peaks of the Corno del Renon and Mount Sciliar form the spectacular scenery during the most beautiful walks on the Barbiano Alp.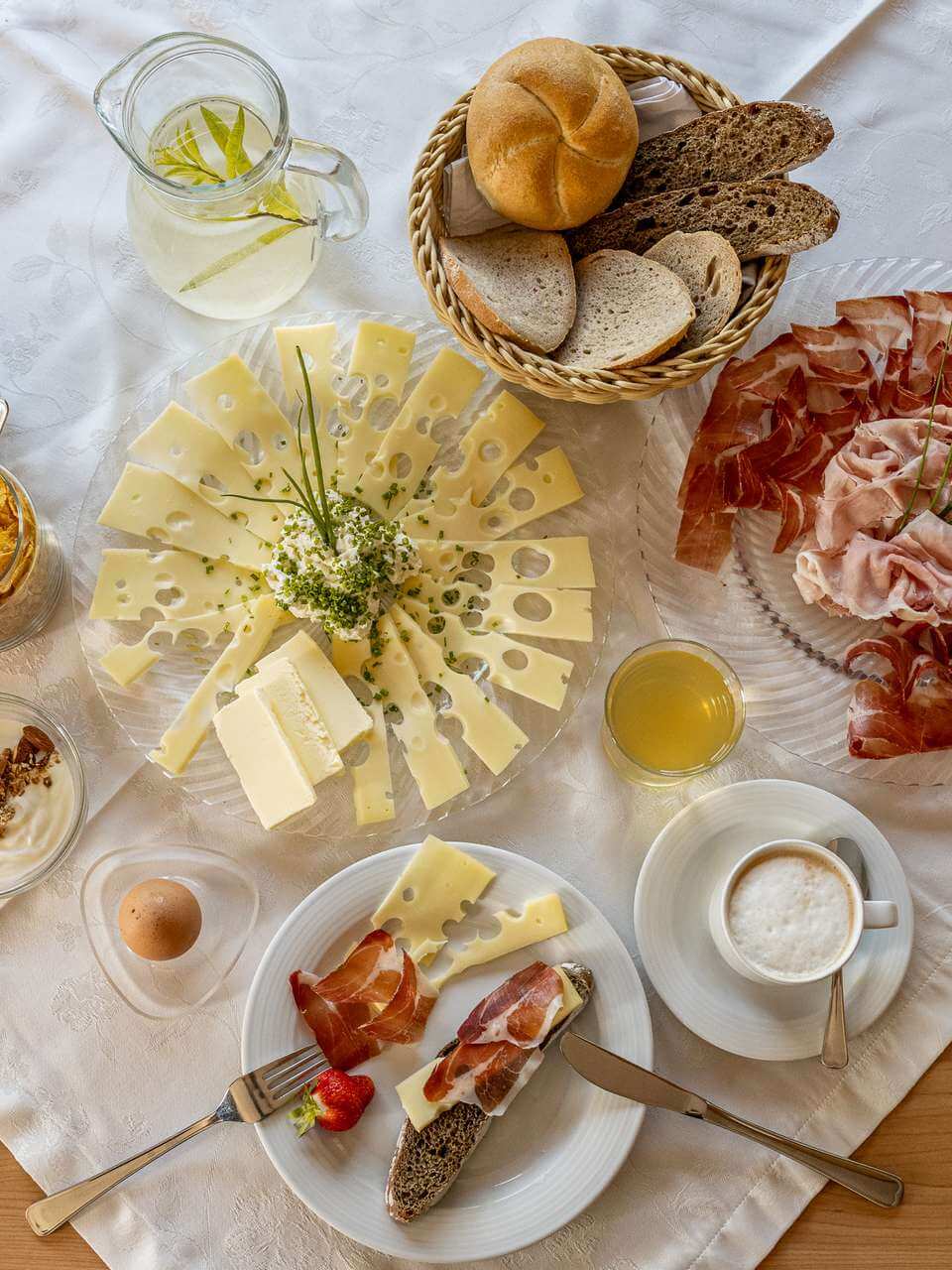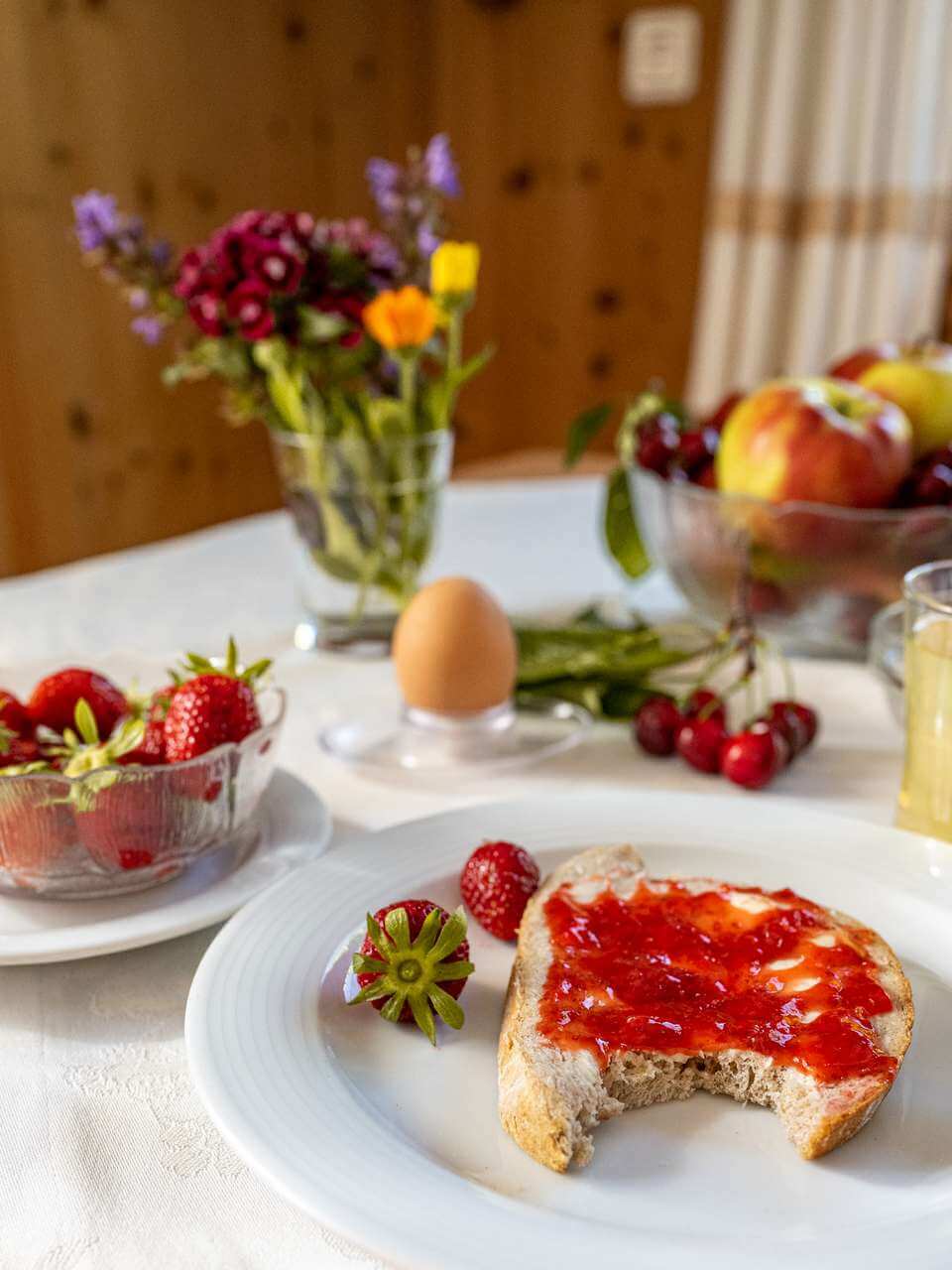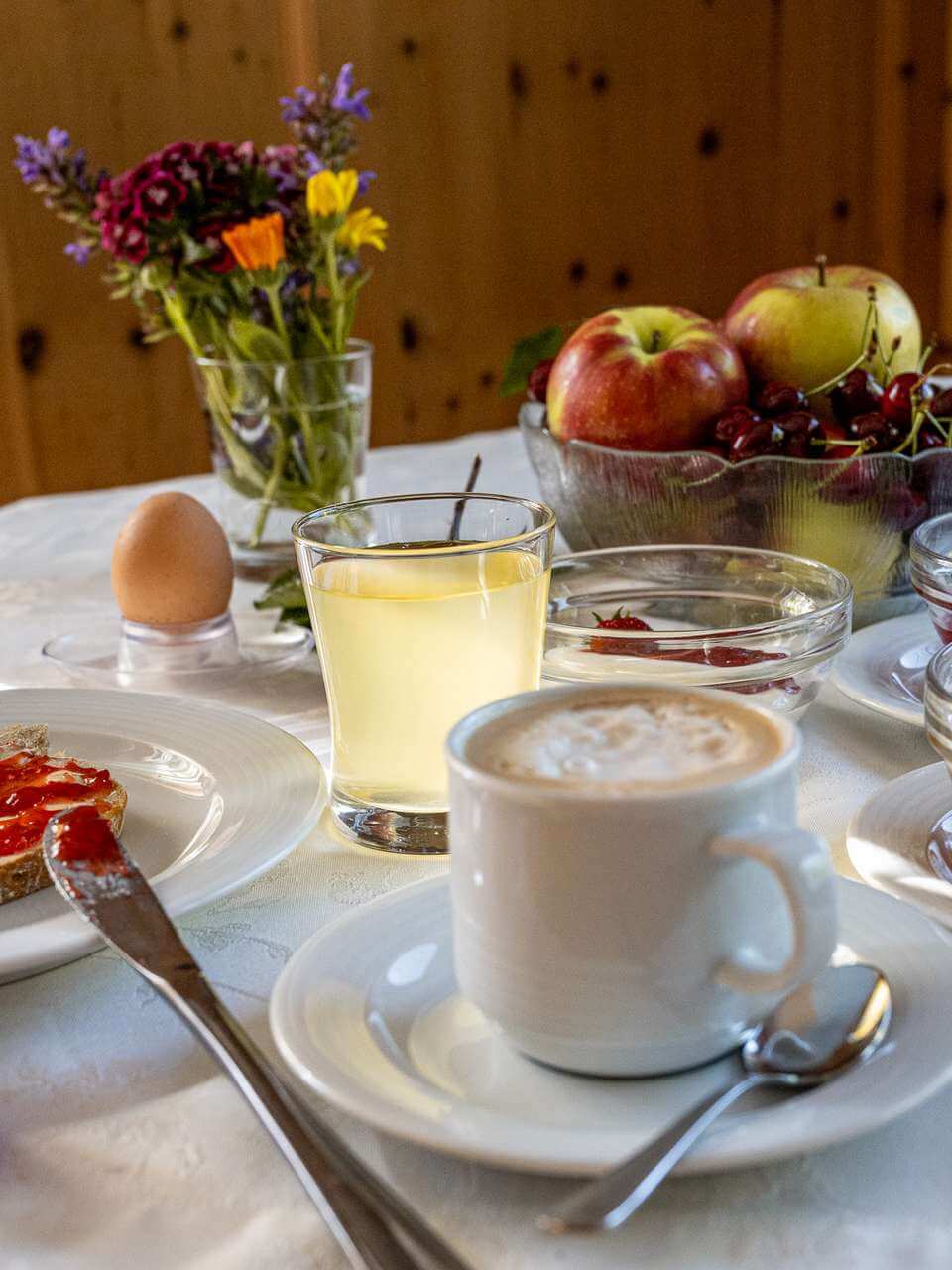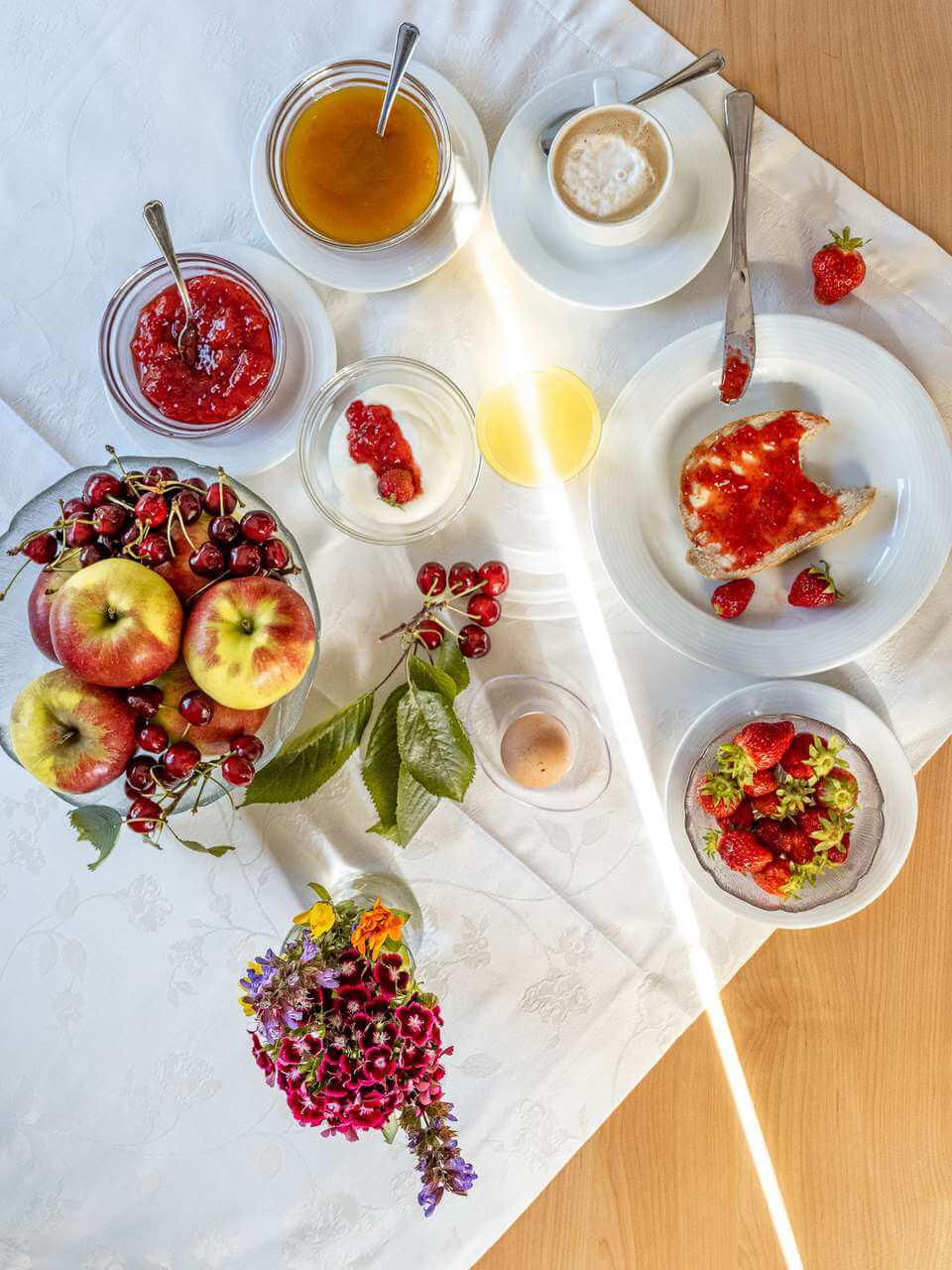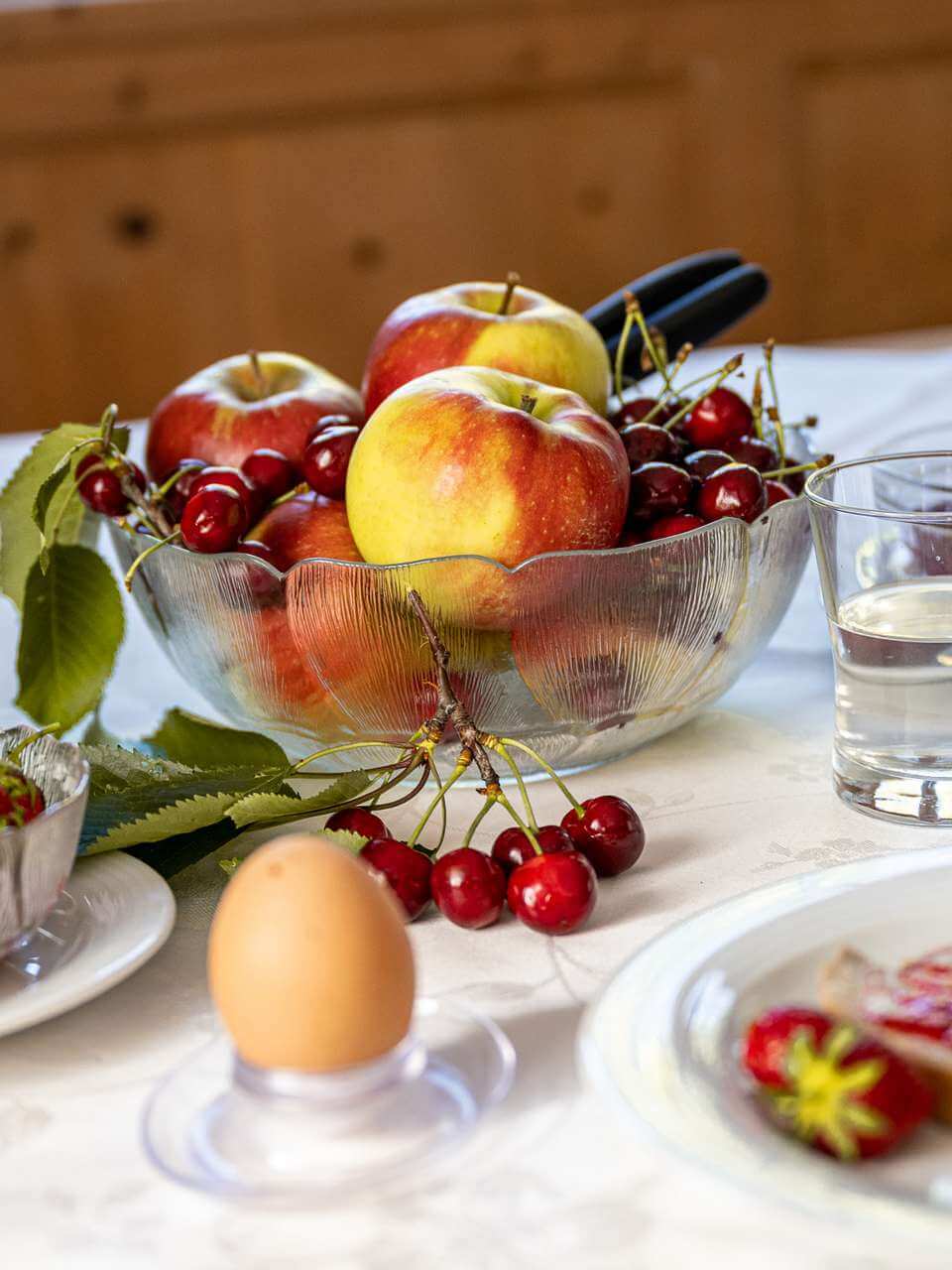 A great start into the day:

Farm breakfast in our "Stube"
A successful start into the day begins with a hearty breakfast (coffee, chocolate, water, sausage, honey, butter, cheese, cereals and  with our farm product like milk, tea, syrup, juice, bread, jam,  eggs, yogurt, bacon, cake, fruit and vegetables).  Enjoy your morning meal in our rustic farmhouse lounge on the Planatscherhof. In a cosy atmosphere, you enjoy crusty rolls, homemade jam, a boiled egg and fresh aromatic coffee. Complement your meal with a slice of home-smoked bacon. There is no better way to start the day.
While our cows and chickens provide fresh eggs and milk, the various fruits are transformed into delicious spreads and juices. In the vineyard the grapes for our house wine prosper, and the garden provides wonderful vegetables and fragrant herbs. Depending on stock and season, the farm products like milk, eggs, yogurt,  jam, dried fruit, tea, syrup/juice, wine, fruit and vegetables are available (against payment) also for our guests. We are happy to supply our guests with bread rolls.