A great start into the day: Farm breakfast in our "Stube"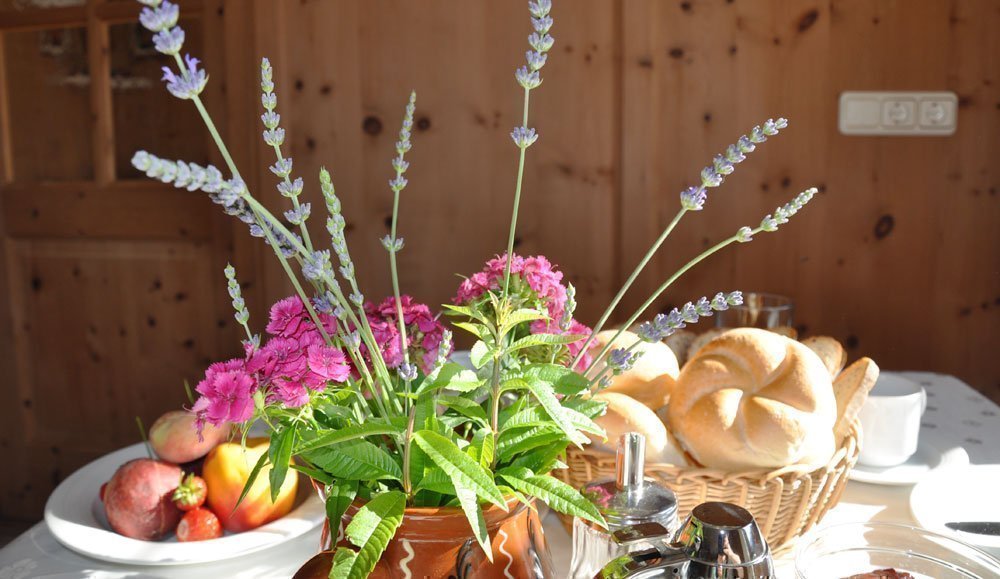 A successful start into the day begins with a hearty breakfast (coffee, chocolate, water, sausage, honey, butter, cheese, cereals and  with our farm product like milk, tea, syrup, juice, bread, jam,  eggs, yogurt, bacon, cake, fruit and vegetables).  Enjoy your morning meal in our rustic farmhouse lounge on the Planatscherhof. In a cosy atmosphere, you enjoy crusty rolls, homemade jam, a boiled egg and fresh aromatic coffee. Complement your meal with a slice of home-smoked bacon. There is no better way to start the day.
Farm products
While our cows and chickens provide fresh eggs and milk, the various fruits are transformed into delicious spreads and juices. In the vineyard the grapes for our house wine prosper, and the garden provides wonderful vegetables and fragrant herbs. Depending on stock and season, the farm products like milk, eggs, yogurt,  jam, dried fruit, tea, syrup/juice, wine, fruit and vegetables are available (against payment) in our product shelf also for our guests.