Wellness Days
Based on the five health principles by Sebastian Kneipp
1. Life order
Keeping balance – find inner harmony


Saturday: Arrive, unwind, relax, according to the story of the partridge:
The old apostle John was playing with his partridge, when a young hunter visited him and ridiculed him for his seemingly useless waste of time. John looked at him in surprise and asked, "Why is the bow in your hand not drawn?" The hunter was startled at this strange question and answered, "You know that. If keep the bow drawn, it would lose its elasticity. If then I wanted to shoot an arrow, it would miss the target. "John smiled and nodded.
"You see, my young friend, the same is true for humans. If you don't relax once in a while, you will not have enough power to do what is necessary and what requests all your energy.
In your apartment you will find Kneipp readings. Have fun exploring!
2. Nutrition – we are what we eat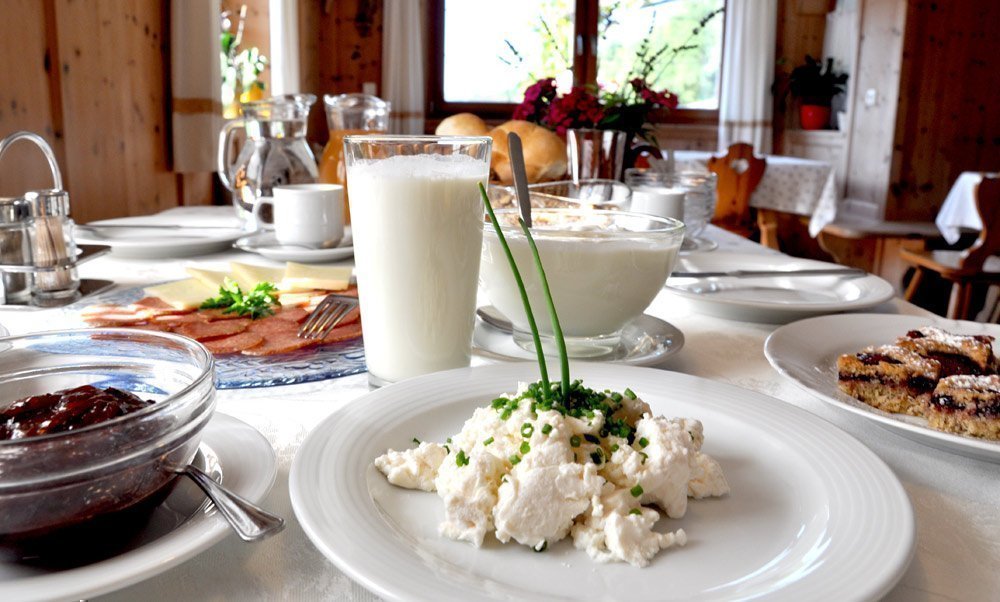 Sunday: We will spoil you with a healthy breakfast mainly made from farm products.
Fresh grain breakfast made of crushed oats
15 tbsp. crushed oats, 2 bananas, 1 apple, juice from half a lemon, seasonal fruit, 50 g coarsely chopped nuts, 50 g sunflower seeds, vanilla or cinnamon, ¼ litre of whipped cream or yogurt.
The oats can also be worked very roughly through the mill. Cut the apple into matchsticks, mash half of the banana and cut the other half into cubes. Immediately mix with lemon juice. Cut the other fruit into small pieces, as you like. Add remaining spices, fruit and nuts to the oats and stir. Finally, add the whipped cream or yogurt.
3. Exercise – The best way to stay fit, is the footway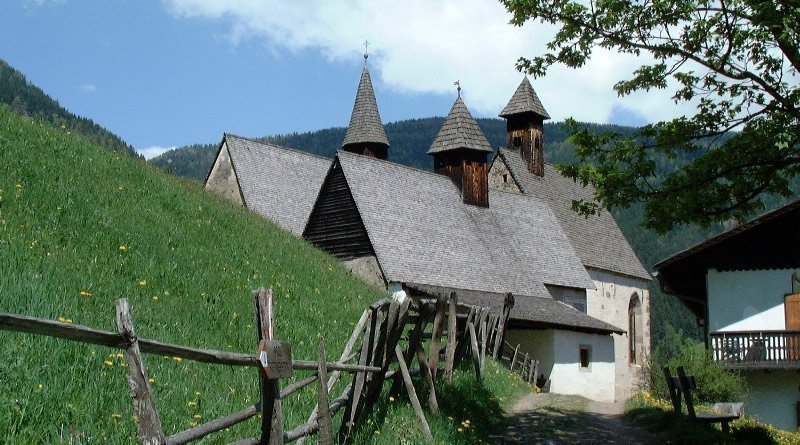 For your Monday, we have prepared written tips for great excursions starting from the farm and wonderful walks. Choose and start going!
Three Churches
Three Churches in Barbiano in the lower Val d'Isarco is one of the most idyllic places in the country. Three Gothic churches, nested in each other, three inns and near one of South Tyrol's most beautiful waterfalls, isolated architecturally interesting cottages and tranquil forest trails turn a visit into a special experience.
The spring rising at Three Churches was formerly attributed a healing effect. Probably in the place where for centuries now there are three gothic churches, a pagan spring sanctuary was long ago located. Three Churches, located on 1,123 m, rose in the late 19th century to the famous spa location. The guests included, among others, Sigmund Freud and Christian Morgenstern.
Hiking in and around Barbiano
On Tuesday a guided walk in and around Barbiano will take place.
Meeting point is at 10.00 am in front of the tourist office Barbiano – the hike is free of charge for you and takes place with a minimum of 2 participants.
4. Water applications – The effects of water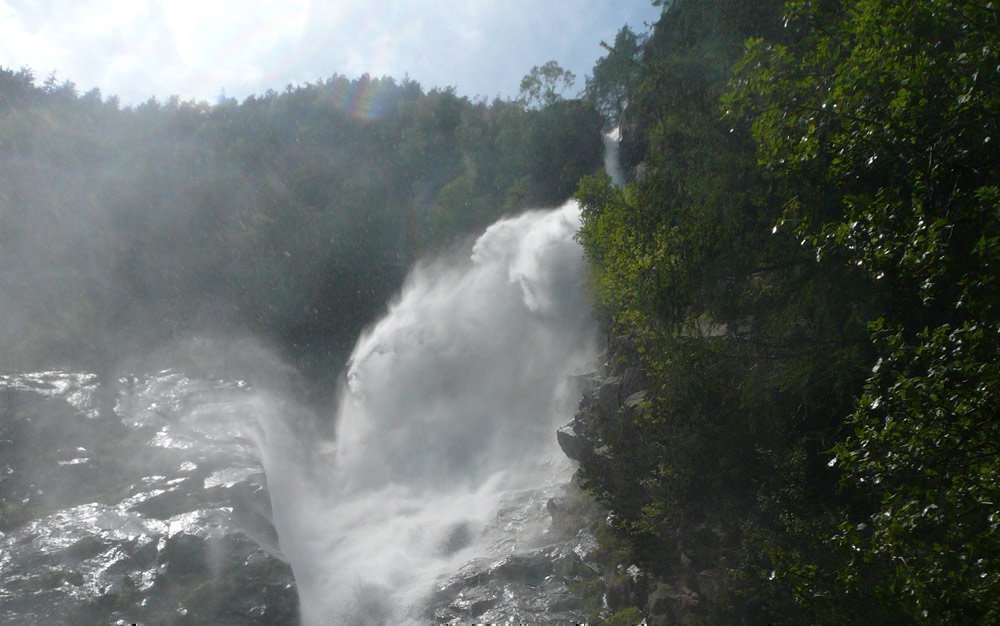 Wednesday is perfect for a hike to the waterfall in Barbiano.
At the Barbiano waterfall (natural monument), there is a special healing climate. Alone the humidity and evaporative mists are refreshing. The special feature is the high concentration of active oxygen ions. They bind fine particulates and waste gases, stimulate the immune system, cleanse the respiratory mucosa, soothe the nervous system and the circulatory system and generally act revitalizing. Since they also facilitate gas exchange in the lungs, the "waterfall therapy" is recommended in cases of allergies and asthma.
The waterfall is especially impressive during the thawing season in April / May.
Invigorating (cold) arm bath – The Energizer
Also known as the "cup of coffee" of naturopathy. Especially suitable in case of lack of energy, pressure in the head, fatigue or hot weather.
On the hike to the Barbiano waterfall you pass a water trough, which is ideal for an invigorating arm bath.  And this is how you do it: plunge both arms into the cold water above the bend of the elbow. Once a strong cold stimulus is felt, stop the treatment, wipe off water and, through motion, warm up your arms. The body should be well warmed up for this application.
On Thursday, before bedtime you may treat yourself to a small
Kneipp wellness footbath
The temperature rising footbath has a warming effect, promotes sleep and helps prevent colds. Place both feet in a tub and fill it with warm water up to the ankles. Gradually add hot water until the water line reaches below the knees. We provide you with a scented bath essence! Duration: about 20 minutes
Attention: in case of varicose veins, please perform the application only up to the ankles! Perform the application only in a healthy condition!
5. Medicinal herbs – their versatile use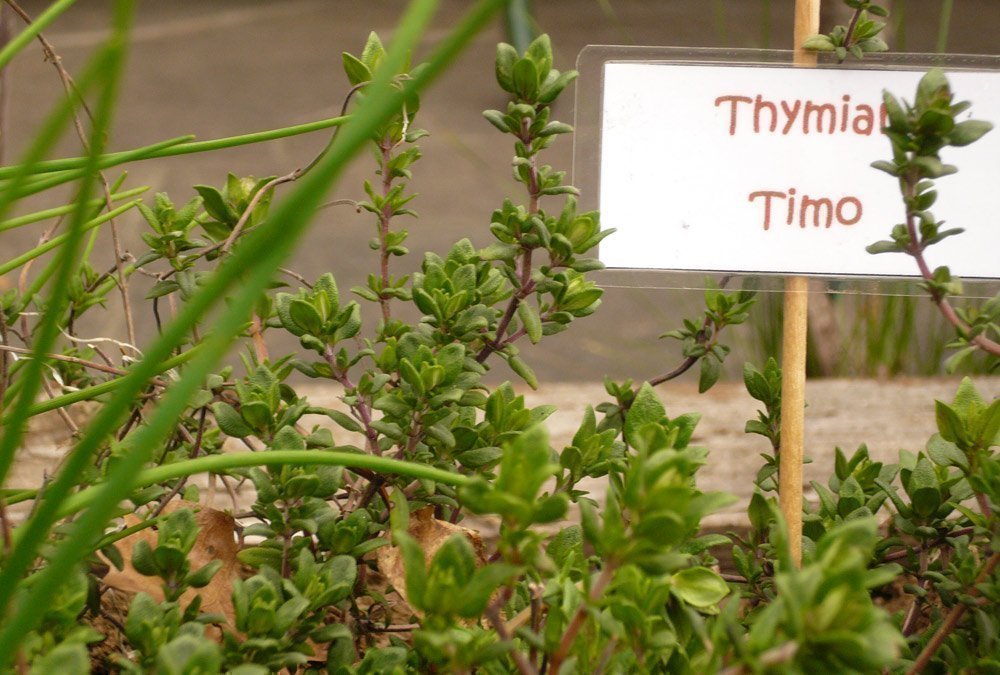 Friday: Tour of the herb garden herb "Kreitla" with guided herb excursion. Experience the organic herb garden at the farm "Oberpalwitterhof", which is within walking distance from the farm (half an hour). The guided tour takes place on Friday, starts at 4.00 pm clock and is free of charge for you.
Try out our balm-mint juice:
2 handfuls of mint and/or lemon balm, 1 litre of water, juice of ½ lemon
This cold infusion takes on the flavour of the herbs in a mild form, and tastes great! It should, however, steep at least 2 hours. The lemon juice is optional.
Period:
May, when booking a 1-week stay
Package:
Cosy holiday apartment for 2, 4 or 6 persons
1 Vitality Breakfast for 2, 4 or 6 persons
Kneipp reading materials
Written tips for hike and excursions
Written instructions for water applications
We provide the accessories for the foot bath
1 free guided walk around Barbiano
1 free herb garden tour

Sebastian Kneipp

taught mankind what they already knew, but had forgotten.
Dr. Birmanns ("Meine Guss-Fiebel ").
A life in harmony with nature means active prevention and healing. More than a century ago, this holistic approach became the basis of the comprehensive therapies by the priest Sebastian Kneipp (1821 – 1897). His health concept is a lifestyle training with mainly preventive character, with the aim of preserving health. It requires a high degree of self-responsibility for one's physical and mental health. The health concept according to Kneipp is based on 5 pillars: life order, nutrition, exercise, hydrotherapy and medicinal herbs.
Life Order
An important point in the Kneipp health concept is the order of life. This refers to a reasonable balance between tension and relaxation.
"Long periods of inactivity weaken the organism, permanent excessive bustle leads to exhaustion. Both situations are an ideal breeding ground for numerous (society) diseases. The alternation between activity and subsequent rest period is one of the criteria for life, therefore a key principle of life order. "(Bachmann, Dr. R. Med, Schleinkofler, GP.)
Nutrition
We are what we eat!
The claims of Sebastian Kneipp to a healthy, balanced and nutritious diet, are consistent with the whole foods of modern dietetics. Tasty and light, versatile, and mainly natural is the food in the Kneipp method. It helps to maintain health by encouraging the body's own protective systems.
Exercise
Exercise is important!
Father Kneipp already 150 years ago knew that exercise is important – the circulation is stimulated and accumulated waste products and toxins are excreted through the skin. It is not really important which type of sport we practice, but we really need to sweat to eliminate toxins.
In addition, the movement of our bodies also fulfils a number of other functions: For example, it is extremely important for our back muscles, not to remain constantly in the same position. Many back pain cases could be avoided if we would insert short, simple exercises into our everyday life.
Water
Water Kneipp applications according to Kneipp
Sebastian Kneipp did not invent the water and bath therapy. Already the ancient Greeks and the Egyptians knew about its effects. Kneipp has rediscovered it during his illness, and then further developed and refined it throughout his life. Kneipp, who was always striving for a good co-cooperation with the medical profession, finally succeeded in giving the water therapy a scientific basis.
Medical herbs
Sebastian Kneipp thought highly of plants and used them as bath essences, tinctures, ointments, teas and juices. He relied on the long tradition of the monastery gardens in Europe and developed his knowledge continuously.
Source: kneippbund.it